8 Perfect Pet-Friendly Causes to Support on Giving Tuesday
Thanksgiving, Black Friday, Small Business Saturday, and Cyber Monday have come and gone, but there's still one more event to take place as the holiday season kicks into full gear. Today is Giving Tuesday and a time to think about how you can make the world a better place. This global day of giving takes place the Tuesday after Thanksgiving each year. It's an ideal opportunity to take a step back from the holiday shopping frenzy and donate to organizations that rely on the generosity of their supporters.
As veterinarians, we think donating to pet-related charities and organizations is one of the best ways to celebrate Giving Tuesday to support cat and dog wellness. Not sure where to donate? We have you covered! Keep reading to discover some perfect pet-friendly causes to support this Giving Tuesday.
1. Animal Care League
Founded in 1974, Animal Care League is a shelter in Illinois that houses, feeds, and cares for dogs, cats, and other small animals until they find loving fur-ever homes. And this Giving Tuesday, a donor will match all donations dollar for dollar. In other words, your $25 donation will become a $50 donation. If you want to stretch your Giving Tuesday funds, donating to this excellent organization is a great way to do it.
2. Freedom Service Dogs of America
Freedom Service Dogs of America rescues dogs and trains them to meet the needs of clients with disabilities. It provides service dogs for veterans and other adults and children with disabilities, and all of the dogs they train come from rescue organizations and shelters. Your donation will make a life-changing difference and help provide someone in need with a custom-trained service dog free of charge.
3. Best Friends Animal Society
Since its inception in 1984, Best Friends Animal Society has been a leader in the no-kill animal shelter movement. It hopes to make all shelters in the United States no-kill by 2025 through advocacy and education. This organization also has a sanctuary in Kanah, Utah, providing shelter and medical care for dogs, cats, birds, horses, rabbits, farm animals, and even wild animals. All donations up to $600,000 are matched on Giving Tuesday.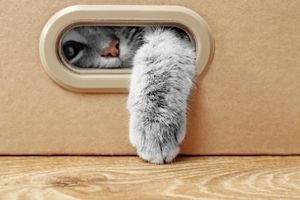 4. Alley Cat Allies
Alley Cat Allies was founded in 1990 to bring the Trap-Neuter-Return (TNR) method to the United States. Today, this organization works with rescues and shelters throughout the US to develop programs that prevent cruelty and save cats' lives. This Giving Tuesday, all donations are being tripled, so donating to this organization is an excellent way to make a significant impact in the lives of cats.
5. For the Love of Alex
For pet parents, few things are worse than not being able to afford life-saving care for a beloved companion. That's where For the Love of Alex comes in. This small organization provides emergency funding for life-saving veterinary services for low-income families. Without funding from government agencies or major corporations, For the Love of Alex relies heavily on individual donors. You can even donate to a specific pet in need and know exactly where your money is going.
6. American Humane
Founded in 1877, American Humane is one of the oldest and most well-known animal welfare organizations. While it was initially started to keep livestock safe while in transit, it has grown to include farms, rescues, conservation programs, military programs, and even Hollywood movies. Thanks to a $50,000 grant from a generous donor, your donation will go twice as far this Giving Tuesday, and more than 91 cents of every dollar goes directly to the organization's life-saving programs.
7. Animal Legal Defense Fund
The Animal Legal Defense Fund was created in 1979 to serve as the legal voice for all animals. It files high-impact lawsuits to fight animal cruelty, support animal protection legislation, and provide resources to help advance the field of animal law. From small companion animals to large wildlife, this organization seeks to care for animals of all types. And like many other organizations, Animal Legal Defense Fund is matching donations for Giving Tuesday.
8. Pets of the Homeless
Pets of the Homeless provides food and medical care for pets whose owners are experiencing homelessness. The belief that everyone deserves a pet regardless of their economic situation helps keep pets and people together during difficult times. In addition to cash donations, Pets of the Homeless also accepts pet food donations at donation sites throughout the US.
Other Ways to Give
While most pet-related organizations rely on monetary donations, they also need help with food and supplies.
Consider donating any of the following items to your favorite shelter or rescue group:
Cat or dog food
Old towels or blankets
Cat litter
Treats
Collars and leashes
Pet beds
Kongs
Cleaning supplies
It also never hurts to contact local organizations to inquire about what supplies they need.
When money is tight, donating your time is an excellent option, too. Spend the afternoon walking dogs, playing with the cats at a local animal shelter, or signing up to be a regular volunteer. There are all sorts of ways to give to animals in need!
Closing Thoughts
Whether you donate to a national organization, prefer volunteering, or want to keep your donation closer to home, donating cash, supplies, or time to pet-related charities is an excellent way to celebrate Giving Tuesday. After all, why wouldn't you want to give back to the furry friends that give so much joy all year long? If you'd like to find out which causes are near and dear to our hearts, or your precious pet is due for their next wellness exam, please don't hesitate to get in touch!