7 Ways to Celebrate Responsible Dog Ownership Month With Your Canine Companion
Though people often associate September with football season, back-to-school, and the unofficial start of fall, it is also Responsible Dog Ownership Month. Founded by the American Kennel Club (AKC), this month-long event is all about helping pet parents learn how to raise healthy, happy dogs.
As veterinarians, we think this month is a great time to hone what you can do to make your dog's life even better. Even if you are already a fantastic pet parent, there are likely some changes you could make to really treat your canine companion like Top Dog. In this blog post, we will be discussing a few of the many ways to celebrate Responsible Dog Ownership Month. Let's get tongues wagging, shall we?
1. Get Out and Exercise
Making sure that your dog gets enough exercise is an essential part of being a responsible pet parent. Unfortunately, it's easy to get bored and slack off on those daily walks around the block. If your exercise routine is in desperate need of excitement, commit to trying something new this month. Instead of just walking around your neighborhood, take your dog for a hike on a local trail. If you want to spice things up, find a dog agility course or take your canine companion for a swim. The extra exercise will be good for you, too!
2. Plan Ahead for Travel
When heading out of town, it's crucial to ensure that your dog has a safe, comfortable place to stay and someone to take care of them in your absence. Even if you are not planning on taking a trip anytime soon, coming up with a travel plan is wise. You never know when you might need (or want) to take a last-minute vacation. This month, spend some time researching local dog boarding facilities and dog sitters. Find out what their requirements are, too, and make sure your furry friend is up to date on all essential vaccinations.
If your travel plans usually include your pet, put together a travel bag for them. It should contain copies of their medical history (including any medications your dog is on) and vaccination records, microchip information, toys, snacks, and other travel essentials for your dog.
3. Prepare for Emergencies and Natural Disasters
No one wants to imagine a natural disaster or another emergency impacting their family. Unfortunately, these scary situations are all too common. With wildfires scorching much of the West Coast, hurricane season ramping up in the Southeast, and all sorts of other disasters plaguing people across the nation, it never hurts to have a plan in place for emergencies.
Every responsible dog owner needs an emergency kit containing:
Evacuation plans
Bottled water
Collapsible bowls
Leash and collar
Copies of important records
Blankets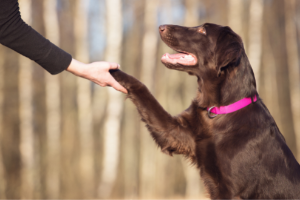 4. Tackle Some Training
Training your dog is an excellent way to keep them safe and happy. It's also an exceptional bonding opportunity. From basic commands and simple tricks to Canine Good Citizen training and dog sports, there are all sorts of possibilities and options for training your dog. This month, research classes, and select one that seems like a good fit for your furry friend. Enroll your dog, and let the fun begin! After a few sessions, your canine companion will be happier, better behaved, and more confident. And you will likely feel closer to your pet than ever before.
5. Socialize
While it's most often associated with puppies, socialization is essential for dogs of all life stages. From puppies to seniors, every dog benefits from regular socialization. If your dog is young, focus on exposing them to people, animals, and situations they are likely to experience in their everyday life. And if you have an older dog, socialization may help them get used to new people and pets.
Set up positive interactions with other dogs of various breeds and sizes and different types of people. Visit dog parks, pet stores, and other pet-friendly destinations. Make every experience loads of fun for your canine companion, and offer up lots of rewards, so they associate these experiences with positive things. Keeping your dog well-socialized throughout their life helps them enjoy a safer, more enjoyable existence. It also helps them remain well-mannered and keeps problematic behaviors at bay.
6. Put Safety First
Keeping your dog safe is a significant part of being a responsible dog owner. For starters, check your fence to ensure that it's secure. Inspect your dog's collar, harness, and leash. The straps should be unfrayed and sturdy, and the buckles should not be cracked, bent, or otherwise damaged. Make sure everything fits, too, and that adjust it all correctly so your dog cannot slip out of it. If you haven't already done so, having your four-legged best friend microchipped is another excellent way to keep them safe.
7. Take Care of Their Health
Routine veterinary visits are a huge part of responsible dog ownership. Your dog needs regular wellness exams, dental cleanings, vaccinations, and additional routine services to prevent disease and avoid serious health complications. Keep in mind, too, that your dog's needs change as they age. Bringing them to see a veterinarian regularly means you'll be able to stay on top of their ever-evolving needs and provide excellent care at all stages of your beloved dog's life.
Responsible Dog Ownership Month Round-Up
There are all sorts of things you can do to enrich your dog's life and help them stay happy and healthy in honor of Responsible Dog Ownership Month. Of all the suggestions listed above, though, scheduling regular veterinary appointments is the most important. Doing so is the best way to stay on top of your dog's health, keep problems at bay, and address minor issues before they become more serious.
As veterinarians, we're here to provide the wellness and preventative care services needed to keep your canine companion healthy and happy. If it's been a while since your dog's last appointment, contact us today to schedule an exam.