National Dress Up Your Pet Day
What are you doing this January 14th? The answer is, being fabulous with your pet, of course! January 14th is National Dress Up Your Pet Day – a special day created by celebrity pet lifestyle expert Colleen Paige in 2009. On this fashion-forward day, pet owners are encouraged to take time to have fun with their dogs, cats, and other animal friends, by dressing them up in cute AND safe pet costumes and outfits.
Why Celebrate National Dress Up Your Pet Day?
This pet-tastic howl-iday is all about light-hearted festivities and bonding (not about forcing a dog or cat to suffer humiliation or discomfort)! When speaking of the special occasion, Colleen Paige wrote, "It's important to remember though, that it's not, however, a day to disrespect our pets with uncomfortable, vulgar and/or seasonally inappropriate costumes for the sake of a laugh or photo shoot."
Should I Celebrate National Dress Up Your Pet Day?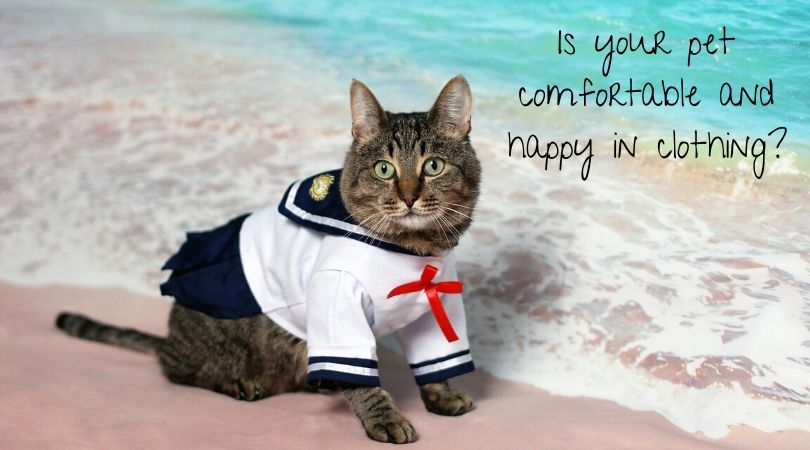 The most important thing to consider for National Dress Up Your Pet Day is that you want to make sure that both you and your pet are having fun while celebrating. As much as you may want to show off your fashion flair, consider whether your pet will enjoy dressing up. Have you tried putting clothes on your pet before? Were they comfortable or unhappy? If your pet generally does not enjoy wearing clothing, this may not be the holiday for the two of you to celebrate. (But you can still spend the day having special bonding time.)
Tips for Celebrating National Dress Up Your Pet Day
If your pet has worn clothing before and is comfortable doing it, choose a fun outfit or costume for them to wear – but choose wisely. Any clothing that you put on your pet should allow him/her to see, hear, breathe, eat, and relieve themselves comfortably. Remember to measure your pet for the paw-fect fit, as pet clothing that is too large or too small can hinder their movement. All pet clothing should also be made of breathable material that prevents overheating, and it should not have any buttons, small pieces, or parts that your pet can chew off and swallow.
Can My Pet Wear Clothing on Other Days?
Of course! There are many reasons why your pet might need to wear clothing (besides just to show off their inner fashionista).
To keep warm: It's winter time, and depending on where you live or visit, that could mean rain, snow, blizzards, and freezing temperatures – and winter clothing can help your pet weather it all. Shirts, jackets, hoodies, and vests are all available in multiple pet sizes. You can even find special dog boots that are designed to protect your pup's paws from ice melt/snow salt.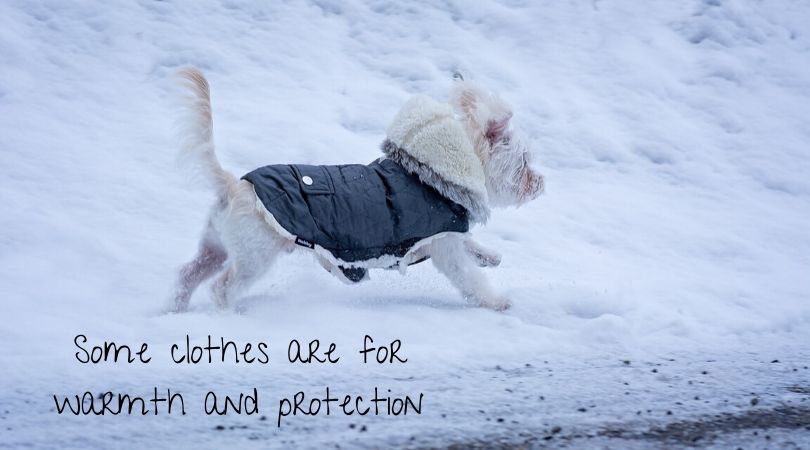 To keep their cool: Dogs with thinning fur or bald spots may need to wear a shirt or vest outside during warm weather to serve as sun protection. All-weather dog boots can also keep paws from getting burned on hot pavement.
To keep safe: When swimming at the pool, lake, or beach, a dog life jacket can help your canine companion stay afloat. There is also a plethora of reflective pet clothing available so that you can always keep an eye on your dog during nighttime walks.
To keep calm: If your dog or cat is prone to anxiety due to separation or loud noises, a ThunderShirt or e-collar can help him or her stay calm in tense situations.
To keep secure: Collars, Gentle Leaders, harnesses, and leashes have come a long way in the style department. When out for a walk, your pet can walk the runway with high-fashion accessories designed for their wellbeing.
To keep protected: Last but not least, "pet diapers" are available for dogs and cats with incontinence or who are going through heat cycles. A wide selection of diaper covers are available for these protective pants to disguise them and save your pet some dignity (while still looking extremely fashionable!).
Make Every Day National Dress Up Your Pet Day
Even if it's not January 14th, you can still enjoy dressing up your pet. And your pet can enjoy it too! Just always keep in mind that your pet should be calm and comfortable, and you will both have a great time treading the fun fashion waters.
As always, if you have any questions about fun and functional pet fashion, please don't hesitate to contact us!